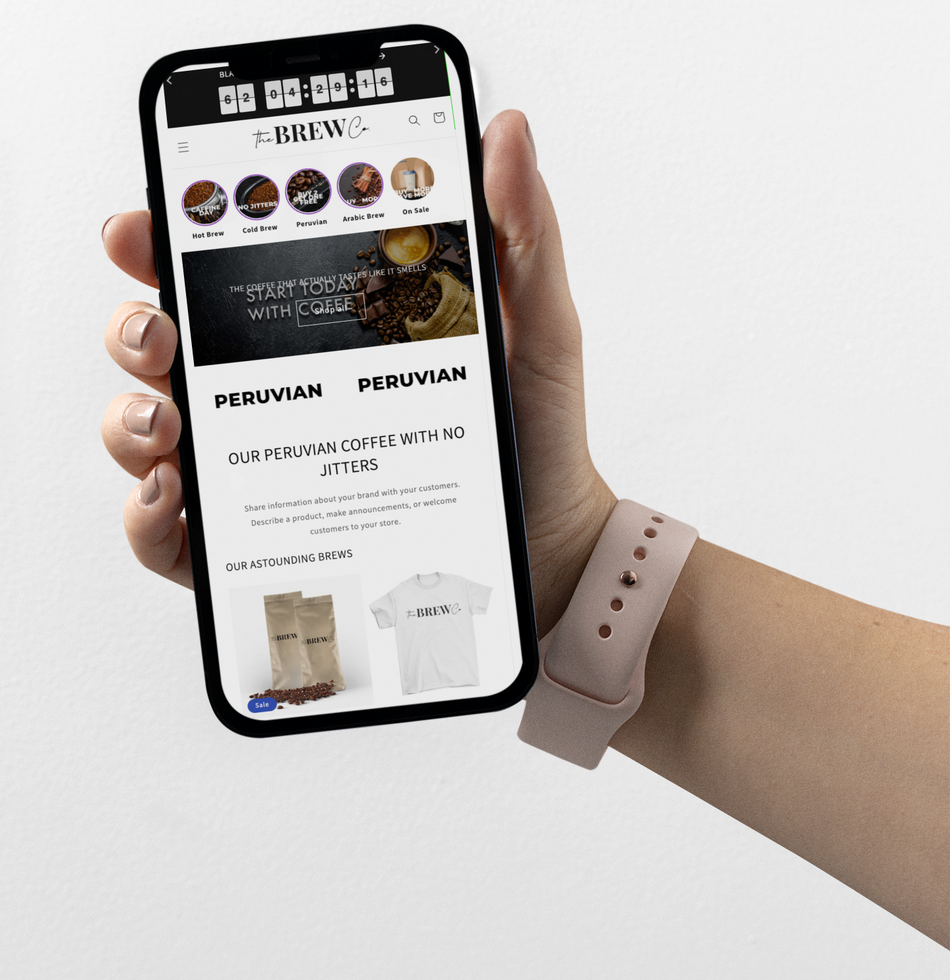 Dawn Theme On Steroids V. 11 (30+ snippets )
Supercharge your Dawn Theme with already included snippets in the theme!
Old price $99.00
Supercharge your Dawn Theme and replace those monthly app payments with fast streamlined code. This premium bundle is designed to save you money and keep your theme loading quickly. 
The dawn theme on steroids  does not come with the  handbook since the snippets are already injected into the code  for you.  
Looking to take your online store to the next level with DAWN on steroids?  
This dawn theme has all the snippets we have ever created thus far!  
All you have to do is purchase the theme on steroids,  send your Shopify URL in the field, and we will send partners to request and do the rest!  
Stick back and watch your  DAWN theme turn from basic to on steroids with these features! 
These snippets are fully responsive, so they will look great on any device. Customers will love the convenience and experience of all these high-converting snippets added to the theme! 
Supercharge your Dawn Theme with already included snippets in the theme! 
The theme does not include a design because we want you to design your store with the new features!   
Note- there are only  updates  for  1 month after purchase 

The features include ONLY: 
Accordion Footer
Age-check
Animated-atc-button
Before-after-slider
Blog-filters
Brands-slider
Cart-goal
Cart-upsell
Color-swatches
Custom-html
Custom-table
Eg-bar
Infinite-pagination
Instagram-feed
Marquee-text
Megamenu-image
Newsletter-popup
Parallax-with-countdown
Password-validator
Payment-calculator
Promo-slider
Qty-break
Sales-popup
Scrolling Text
Shoppable_video_slider
Sticky-atc
Sticky-video
Stock-indicator-bar
Testimonials
Trust-badges
Upsell-checkbox
Whatsapp-button
Wishlist
Got questions? Email us at snippets@ecomgraduates.com and we will answer any questions you may have.
This feature works on Dawn theme- If you have purchased any other theme, especially themes by themeforest. This may not work and we do not provide support on any other theme but dawn as it has been confirmed.
**Note snippets are purchased as is
Only one snippet may be used per Shopify store. 

We're aware that there are less expensive ways to add our snippets to your Shopify store, but none that offer the same degree of customization and robust functionality that we do :)
Hiring a designer and/or developer to build up a custom area of your site would need more time and money than it's worth. You'll have a ton of freedom with our sections, and it's easy to set up—all for a flat rate with no hidden fees or recurring expenses. It will save you money in the long term.
The dawn theme on steroids  does not come with the  handbook since the snippets are already injected into the code  for you.  
Amazing service and extremely fast turnaround time! I purchased the "dawn on steroids" upgrade and the look and feel of my store looks professionally done. The upgrades they created are top-notch and very creative.

Totally Awesome People! I purchased the all-in one pack, totally worth every penny! Had a problem with adding the mega menu on Dawn 6 tho. They jumped into action immediately and fixed it fast! Couldn't be happier. Will be back for more snippets.

Incredible service. Have ordered 3 different products form these guys and they are an absolute breeze to deal with. I didn't have the exact theme they were built for, they helped with the custom install no problems asked. Cannot recommend these guys enough. Easy 5/5 service.

Great support 1on1! And they're fast and quick to solve your issues.

EcomGraduates for the WIN!! I have had nothing but EXCELLENT service - and oh my goodness, the time I have saved myself since finding EcomGraduates! I was spending much of my days figuring out to do the very thing they already did!

I purchased a snippet and could not get it to work right away. Got immediate response and help! Now works like a dream. Thank you!

I came across this company via Youtube. I think a lot can be said about a company willing to take the necessary steps to insure that the customer is satisfied. I have purchased many codes from them and the installation. I want to thank Ecomgraduates for making sure all of the codes ( snippets) were in working order

Thank you Glen for adding a button skew in liquid panel for my dawn theme on Shopify! These guys are awesome and quick response! Will definitely be buying some snippets from these guys!

Amazing guy, Can fix any problems ASAP and very fast at responding A++

Yes I would highly recommend them! Krysta Larson was so helpful and polite I would recommend her too

Great Customer service. Response to emails quickly! Love everything about this company. So glad to have found them! Please continue to be innovative, us entrepreneurs need you guys!!!

Very helpful all the snippets are easy to install. Had difficulty with one and the team sorted it on a Sunday afternoon for me. Excellent company and will definitely use again

I bought an App for our website and it was not compatible, they went above to make us happy, installing a custom one free of charge. Happy customer and great customer service

Great Shopify snippets that actually work, and really speedy service and support !!!!!

Very good serivce, they helped me tweak and adjust one of their codes to suit my needs. Highly recommend. Good communication.

EcomGraduates products are perfect snippets / add-ons and the support is truly a 5* plus support! I've been in the IT industry for over 40 years and have seldom seen such competent, friendly and helpful supporters. A special thanks goes to the team, whose helped us and we saved days of work.

Loved the help & support provided throughout. I needed some customisation for my store & EcomGraduates over-delivered as usual. I really do recommend them & can assure you that you will be very satisfied with their services!

I typically don't buy things online because I like trying to figure it out on my own. But, when I ran into an issue on my store, I found Ecom Graduates on YouTube and downloaded a code snippet for color swatches.

FANTASTIC service after sale helping me tweak our highly customized Dawn Shopify theme to get their slide cart working as it should. Their slide cart is very well done and customers are already praising the enhanced user experience.
F.A.Q
Code snippets on Shopify are bits of code that improve the functionality of your theme in some manner (like Shopify Apps). The installation of them does not call for any specific technical expertise, and in-depth instructions are included in the package. The primary benefit is that they load quicker than applications, and there are no monthly costs associated with using them.
We take pride in our work!
Please take a look at our portfolio if you are curious to have more work done besides using one of the free themes.
100% safe. We place a high priority on maintaining your confidentiality and safety. When you make a purchase in our store, you will be routed to a secure payment platform for the checkout process, where you will have the option to pay using either PayPal or a credit or debit card.
Yes we can certainly help you! That is what we do best, build out custom themes on Boostrap 5 framework and backend- API's.
Please contact us if you would likle a custom theme.
Yes! we can help you install it as long as you place the order with your myshopify url, we will send over a store access request and finish the process.
Yes, the snippets are sold as is, however we do have updates which you will recieve in your email!
We do not allow the same snippet on multiple stores. Please respect the work we have dedicated to make these amazing snippets for you to better enhance your store and increase conversions!
DAWN Theme Accordion Footer
DAWN Theme Accordion Footer is the perfect way to make your footer easy to navigate on mobile. With this code, you can transform your Dawn theme footer into a premium accordion footer!

Compressed and easy to use, this code is the perfect way to improve your website's navigation.

ADD THIS TO MY STORE
COLOR SWATCHES ON SHOPIFY DAWN THEME
DAWN Theme Color Swatches are the perfect way for potential buyers to get a feel for the colors of your products. With just a few clicks, they can see how the colors will look in different lighting and situations. This makes it easier for them to choose the best color goods for their needs.
With the DAWN Theme Color Swatches, you can rest assured that you're getting exactly the hue you want. These swatches are designed to give you a true sense of the colors available, so you can make the best choice for your product.
ADD THIS TO MY STORE
DAWN QUICK VIEW
If you're looking to take your Shopify store to the next level, then you need to check out the Quick View for Dawn theme. This powerful little tool allows you to create beautiful pop-ups for your products, so customers can get a quick preview without having to leave the page they're on.

Not only is Quick View for Dawn super easy to use, it perfectly matches your store's design. And because it's built on Shopify's powerful platform, you know it will be fast, reliable, and secure.
ADD THIS TO MY THEME
HOW TO ADD CUSTOM LIQUID TO SHOPIFY
If you're looking for a way to add some customization to your Shopify store, then look no further than the new Custom Liquid feature. With this handy tool, you can easily add code to your store without affecting its speed or performance. Plus, it's super easy to use – simply enter your code and hit save.
And if you're not sure how to code in Liquid, don't worry – there are plenty of resources available online to help you get started. So what are you waiting for? Give Custom Liquid a try today and take your store to the next level!
ADD THIS TO MY STORE
DAWN CART DRAWER
Looking to take your online store to the next level with a stylish and functional slide-out cart? Our Cart Drawer for Dawn Theme is just what you need! This easy-to-install code will transform your existing Dawn theme cart page into a sleek, sliding-out cart that makes shopping on your site a breeze.
Plus, it's fully responsive, so it will look great on any device. Customers will love the convenience of being able to see their entire cart at a glance and quickly add or remove items. And you'll love the streamlined look and increased functionality of your site. So don't wait, get our Cart Drawer for Dawn Theme today!
ADD THIS TO MY STORE
HOW TO ADD CUSTOM HTML
 Custom HTML sections are a great way to spruce up your Shopify store! They make your store look more professional and can be used to showcase your products or services. In this Shopify tutorial, I show you how to add in custom HTML section for your Shopify store!
ADD THIS TO MY STORE
PARALLAX EFFECT
Scroll more slowly with parallax with media. This creates an illusion of depth and can make a website more visually appealing. In this tutorial, you'll learn how to add a parallax scrolling effect to your Shopify store.
Give a  stronger illusion of depth. This effect is achieved by having different speeds for different elements on the page, with the background moving more slowly than the foreground. Check out this tutorial to learn how to add parallax scrolling to your Shopify store!
ADD THIS TO MY STORE
FAQ ACCORDION
No need for Bootstrap source files!
In this Shopify tutorial, I show how to add Faq to your Shopify store to make your store from zero to premium. The free themes are great but they are missing some crucial pages like the FAQ.

FAQs are incredibly important to have in your store regardless of what you are selling. Customers always have answers and this FAQ section will ensure they are purchasing the right product for them!
ADD THIS TO MY STORE
MARQUEE EFFECT
Looking to add some extra flair to your Shopify store? The marquee effect is a great way to do just that! In this video, I show you how to add a Shopify marquee text to your theme, turning it from a free theme to a premium one with this easy-to-use feature.

With the marquee effect, you can easily animate scrolling text for promotions and deals, drawing in customers and getting them to click checkout.
ADD THIS TO MY STORE
Is your Shopify business in need of some code assistance?
Please let us know what you need, and we will respond to you within the next day.
GET A QUOTE
Bump Up Your Store With These...