Ecomify - Simplifying Ecommerce
Enhance your online store with our premium Shopify theme. Developed by EcomGraduates™, our themes feature stunning designs, advanced features, fast loading speeds, and full responsiveness to convert visitors into loyal customers.
Stand out from competitors and bring your brand to life with our themes.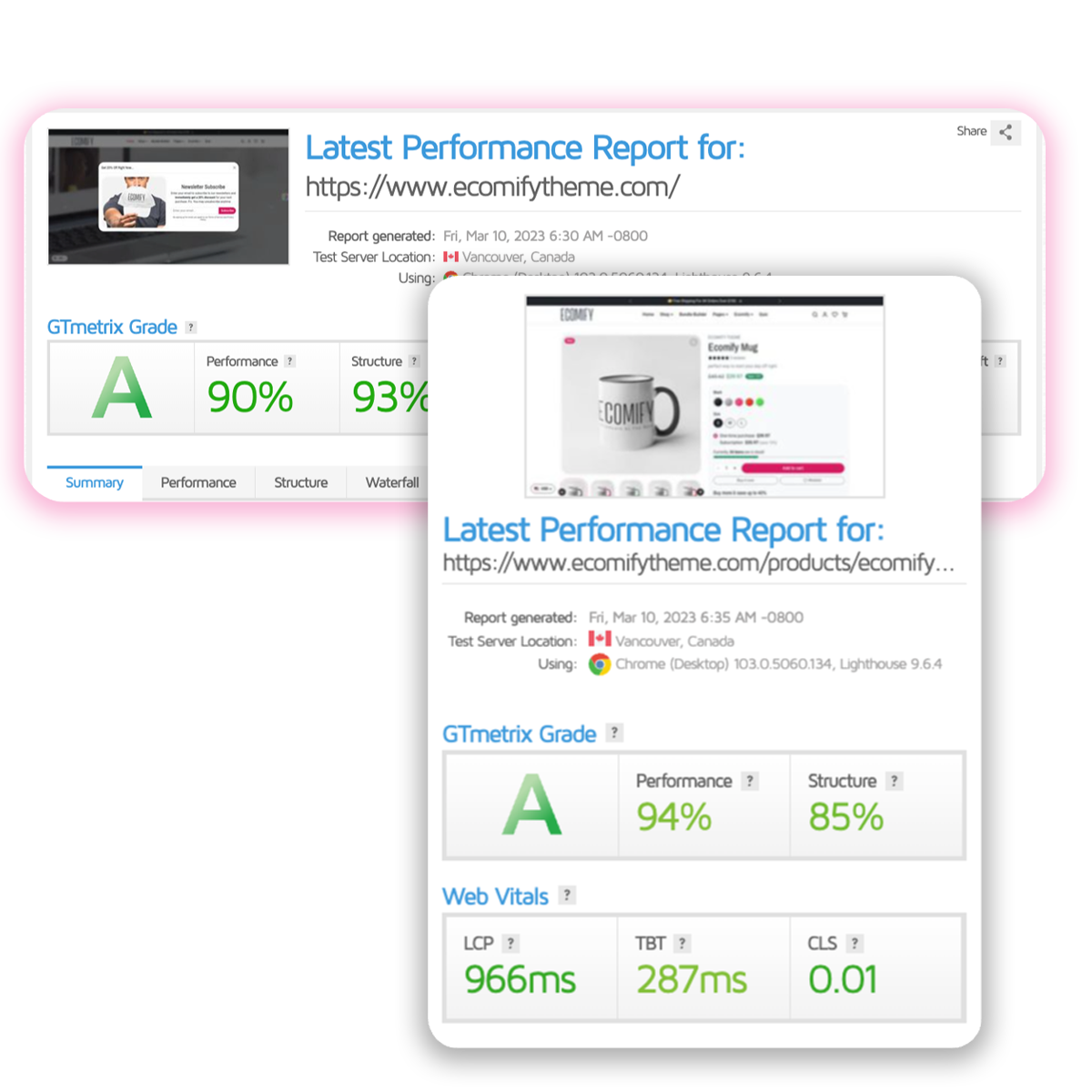 Ecomify: Mobile-first design then desktop
Ecomify puts mobile first, ensuring that your online store looks and functions beautifully on any device. Keep your customers engaged and coming back for more with our mobile-optimized theme.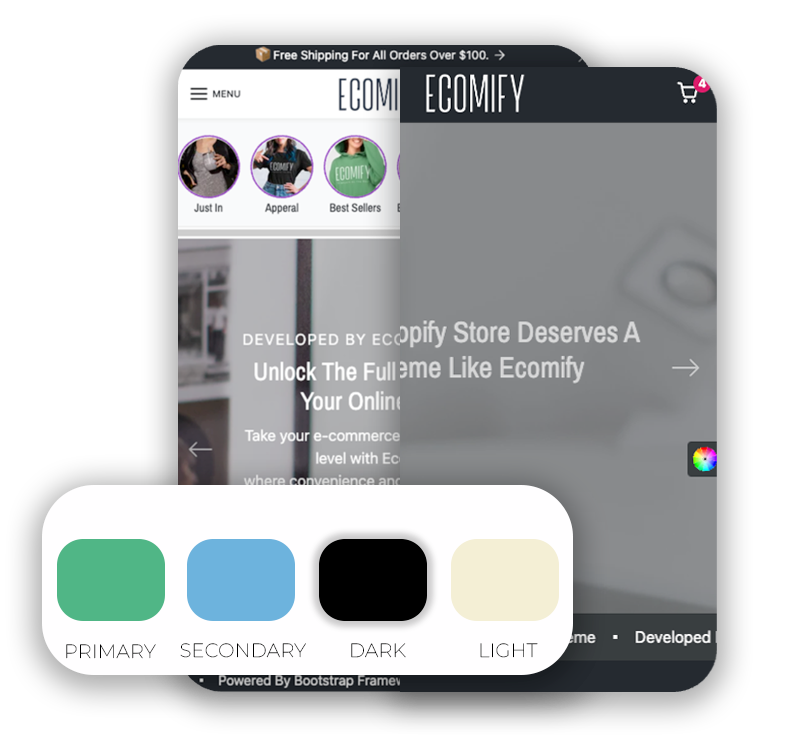 Ecomify's Dark Theme- Shop In Style
Ecomify is proud to offer a sleek and sophisticated dark theme for your online store. Our dark theme offers a unique and modern look that will set your store apart from the competition.

Not only is it visually appealing, but it's also easy on the eyes and can be easier to read in certain lighting conditions. Plus, with Ecomify's customization options, you can easily adjust the colors and branding elements to match your specific aesthetic. Stand out with Ecomify's dark theme and create an online store that truly reflects your brand.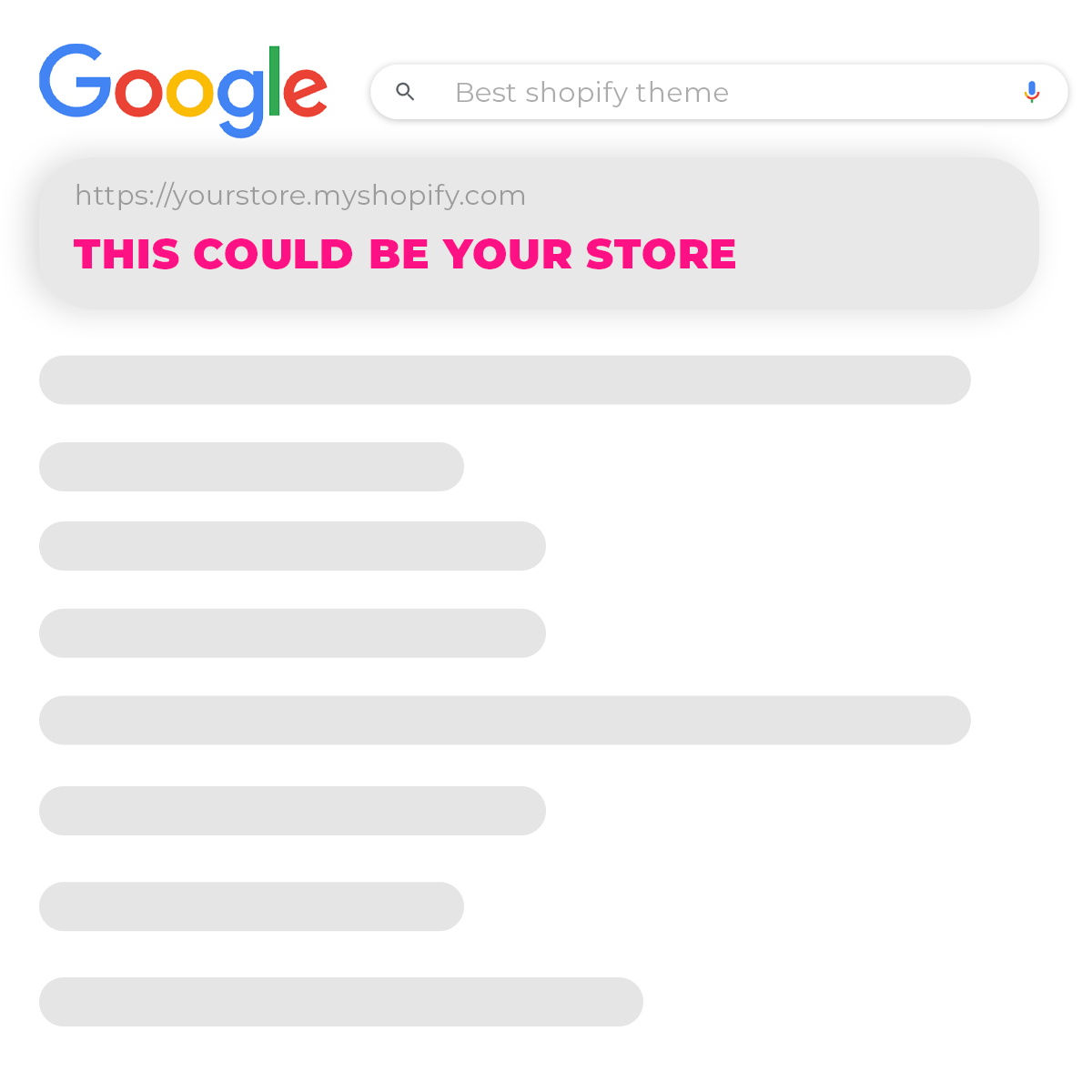 Optimized For SEO
With Ecomify, you can expect to achieve the highest possible Google scores thanks to its advanced features such as expanded rich snippet support, semantic usage of HTML tags, and complete compatibility with Shopify's native SEO functionality.
Additionally, Ecomify offers even more capabilities to enhance your online store's visibility and search engine rankings.
Save Over $1000+ Per Year By Utilizing Our Complimentary Built-in Theme Features!
There is no need to incur extra costs for additional apps
| Features | App Cost | Ecomify |
| --- | --- | --- |
| Bundles & Discounts | $180.00 | FREE |
| Advanced Mega Menu | $120.00 | FREE |
| Product Filtering | $240.00 | FREE |
| Image Compare | $60.00 | FREE |
| Free shipping threshold | $144.00 | FREE |
| Countdown Timer | $84.00 | FREE |
| Cart Upsell | $155.00 | FREE |
| Size Chart | $69.00 | FREE |
| Wish Lists | $96.00 | FREE |
| Look Book | $290.00 | FREE |
| Color Swatches | $240 | FREE |
| Predictive Search | $144 | FREE |
| Sticky Add-To-Cart | $60 | FREE |
| Cart Slide Out | $108 | FREE |
| Age Check | $45 | FREE |
Ecomify: Powering Online Retail Growth
Ecomify caters to businesses of all sizes with built-in app like features
and comprehensive support for success.
Full Control
Design your dream store with ease using Ecomify - no coding experience necessary! Customize every aspect of your online store to your exact specifications and watch your business thrive.
Minimal Apps
Ecomify has everything you need to run a successful online store - all in one theme. Say goodbye to cluttered apps and hello to a streamlined, efficient business.
No Obfuscated Code
Ecomify comes with clean code standards so you can confidently adjust to your liking if you are an expert.
Attention To Detail
We believe that the little things make all the difference. That's why we've paid close attention to every detail in our theme ensuring that every aspect of your online store looks and functions beautifully.
Take Your Customer's Shopping Experience to the Next Level with Shoppable TikTok Videos.
App Value 2500/Month
Engaging, Swipe-Enabled, and Ready for Shopping.

Drive customer engagement and inspiration by showcasing product stories and genuine reviews from real people.
Create an inviting and friendly atmosphere in your digital store, as if you were greeting shoppers in person.
Simplify the purchase process and maximize convenience for customers by enabling them to complete their orders directly from the video unit.
Test your Knowledge: Allow Customers To Take A Quiz
App Value 45/Month
Our quiz feature is a powerful tool that allows you to gather valuable data from your customers while also engaging them in a fun and interactive way. With this feature, you can create custom quizzes related to your products or brand and embed them directly into your Ecomify theme.
As customers take the quizzes, you'll be able to gather data on their preferences, interests, and behavior, which you can then use to inform your marketing and product strategies.
Cut Down On App Fees By More Than $300 Per Month
The amount that you would typically be charged when purchasing apps from the Shopify App Store.
If you're looking to save money on app fees, cut down on app fees by more than $300 per month app might be just what you need. Ecomify is designed to help you identify and eliminate unnecessary fees that you may be paying for various apps on your phone or computer.
By using Ecomify, you can use eliminate the use of popular  apps that bloat your store  and increase speed.  
Not All Themes Are Created Equal
Section Groups (New)
Create dynamic conglomerations of sections
Bundle Builder
Bundle products based on their preferences
Subscriptions
Offer subscriptions on a monthly, weekly, or daily basis.
Frequently Bought
Maximize revenue for the eCommerce store
Quantity Break
Encourage customers to purchase more products and save more
Dark Mode
Reduce blue light exposure
Upsells
Increase the value of the sale
Sticky ATC
Decrease cart abandonment making
Infinite Scrolling
Loads content continuously
Size-chart
What size to order to best fit them
Custom Quiz
Incentive customers with specific needs
TikTok slider
Display UGC and connect with products
Custom Properties
custom options to products that are not available in the default product fields
Speech Recognition
Understand what others are saying on web
 3d Models
Accurate digital representation
Stock countdown
Gain visibility and control over inventory
Newsletter
Communication to subscribers
Wishlist
Reduce shopping cart abandonment
Custom Heading Font
Style your heading fonts and bully brand
Predictive Search
Anticipating the search needs of a user
Lookbook
Ability to focus on products
Subscription Upsell on Cart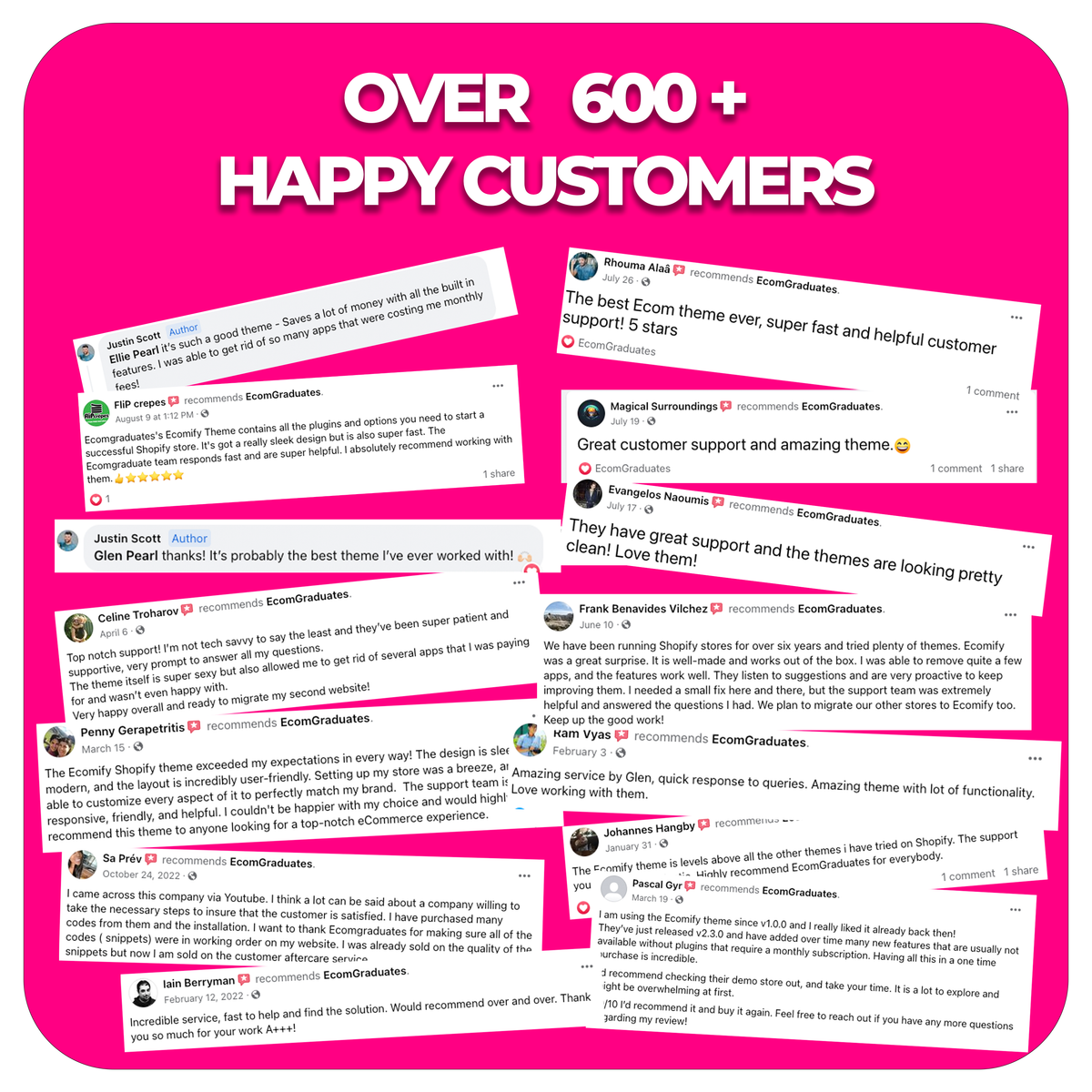 Look At How Others Are Loving  Ecomify
See the love and rave reviews from everyone enjoying Ecomify!
Why Is Ecomify Faster?
A theme that guarantees speed and performance optimization without any required modifications from you. Ecomify is developed to deliver lightning-fast performance, maximizing your online store's efficiency, and boosting your revenue.
Fewer Server Requests
Optimize speed without added apps slowing you down
Image Optimization
Ensuring that images will no longer slow down your site, as they are served in optimized quality
Javascript Queries
Minimizing Javascript DOM queries by using only unique IDs and skipping over unnecessary elements
Easy Integrations
Allows for more functions without sacrificing site performance
Latest Shopify
Always on the cutting-edge of Shopify, now with section groups
Data Driven
Design backed by data for ultimate reliability
Support Is Key
Top priority to ensure that our customers are satisfied and their issues are resolved
Clean Code
Ensuring cross-browser compatibility by adhering to the latest coding standards
FAQ
Ecomify theme is a Shopify theme that is designed to help e-commerce store owners create a visually appealing and functional online store. The theme offers a variety of customizable features, such as multiple homepage layouts, product page layouts, and header and footer styles.
It also includes features like a product slider, customizable mega menu, and a responsive design that looks great on both desktop and mobile devices. Ecomify theme is built to help store owners showcase their products and improve their customers' shopping experience.
We have  tons of features on  ecomify theme!  They range from  custom quiz, bundle builder,  shippable tiktik sliders,  all features that can save you  over 300 and more!  
Here is where you can see the list of features and our documentation.  
At our EcomGraduates, we strongly believe in the quality and effectiveness of our products. We have spent a considerable amount of time and resources in developing and refining our offerings to ensure that they meet the highest standards of excellence. As a result, we stand by our products and are confident in their ability to deliver the desired results.
Given our confidence in our products, we have made the decision not to offer trial periods. We believe that our customers will be completely satisfied with their purchase and will not require a trial period to make a decision. By not offering a trial period, we are able to maintain the quality and integrity of our products and avoid any unnecessary costs or complications associated with the trial process.
We appreciate your interest in our products and services. Please note that we do not offer refunds for digital products. Before making a purchase, we encourage you to carefully review the demo to ensure it meets your requirement as there are no refunds on digital products.
We take pride in the quality of our Ecomify theme and stand behind it with a guarantee to cover any bugs that may arise within the theme. We understand how frustrating it can be to experience issues while trying to set up and run your online store, which is why we are committed to providing a seamless and bug-free experience for our customers.
However, we would like to clarify that our bug coverage does not extend to any bugs that result from a customer's own edits to the theme code. We design our Ecomify theme to work smoothly and efficiently prior to any customer adjustments, and we cannot guarantee that it will function as intended after such edits have been made.
You can view  more of our support  by going here
you can stay updated on the release schedule for Ecomify by following the change log reports and expected dates for new arrivals. Additionally, when there is an update available, you will be notified automatically through the email that you provided when you initially made the purchase. So be sure to keep an eye out for any updates and check your email regularly to stay informed.
We value feedback from our community as this theme is based on community-driven data. If you have any suggestions, please submit them and we will do our best to develop them. However, please note that not all requests can be fulfilled as we will review and determine if they are relevant to the wider community.
Unfortunately, this is just a theme and does not include the design of the store.
To access digital downloads, customers are required to relinquish their cancellation rights prior to receiving the content. Consequently, once the content is downloaded, customers are no longer entitled to request a refund as they have already forfeited their consumer rights.We regret to inform you that we cannot issue refunds for any non-tangible irrevocable goods purchased on ecomgraduates.com . This policy applies once the order is completed and the product download link is sent. As a customer, it is your responsibility to be aware of this policy before making any purchase on our website.Please note that digital products are immediately accessible, which is why we do not offer refunds for any sales made. Therefore, all sales are considered final and nonrefundable.
We appreciate your interest in our products and services. Please note that we do not offer refunds for digital products. Before making a purchase, we encourage you to carefully review the demo to ensure it meets your requirement as there are no refunds on digital products.
Read more on our refund policy.
The reason why Premium Shopify themes tend to be more costly is because of the increased value they offer in terms of design features and flexibility. These themes typically include a wide range of advanced design elements and customization options that enable store owners to create a unique and visually appealing storefront. Additionally, they often come equipped with pre-built applications that are seamlessly integrated into the code, providing users with a range of useful functions and enhancing the overall user experience. All of these features combined contribute to the premium pricing of these themes, as they provide a superior level of quality and functionality compared to standard themes.
Ecomify has been specifically engineered to optimize the performance of your online store by enhancing its speed and responsiveness, resulting in an unparalleled user experience for your customers.
When purchasing Ecomify, it means more than just receiving a theme - it means gaining access to our unparalleled customer support. We take support seriously, and are committed to answering all inquiries within a single day. This level of dedication is not commonly found among other theme providers and companies, making our service stand out as a reliable and trustworthy option for those seeking both quality and exceptional customer service.
Ecomify is a powerful tool that can greatly improve your website's conversion rates by optimizing your product pages, streamlining your checkout process, and providing valuable analytics to help you make data-driven decisions. However, it's important to note that while ecomify can help improve your conversion rates, it cannot guarantee sales.
Conversion rates and sales are two different factors that are influenced by a variety of variables, including the quality of your products, your pricing strategy, your marketing efforts, and more. While ecomify can certainly help you optimize your website and improve your conversion rates, it cannot control these external factors that ultimately determine whether or not a customer decides to make a purchase.
That being said, by using ecomify to improve your website's user experience and optimize your conversion funnel, you can increase your chances of converting visitors into paying customers. Just remember that while ecomify can help you improve your conversion rates, it cannot guarantee sales.
To get started, simply visit our website and click on the "Create Account" button. Fill in the required details, such as your name, email address, and password, to set up your account.
You can read more in our documentation under licensing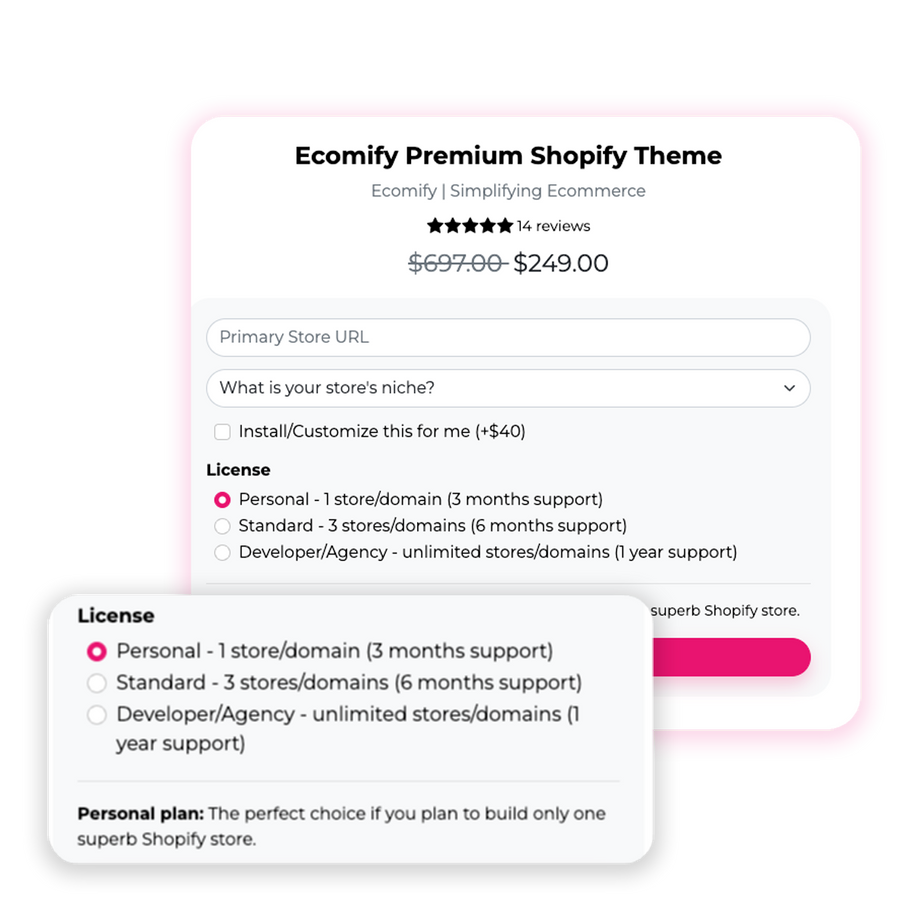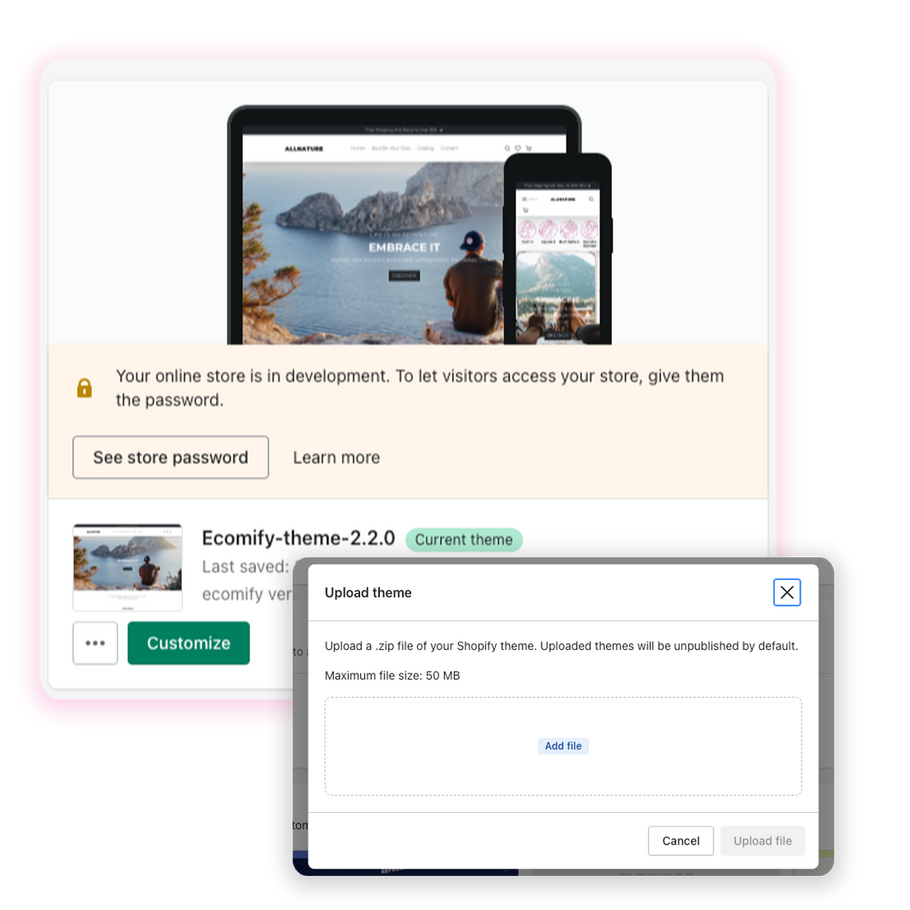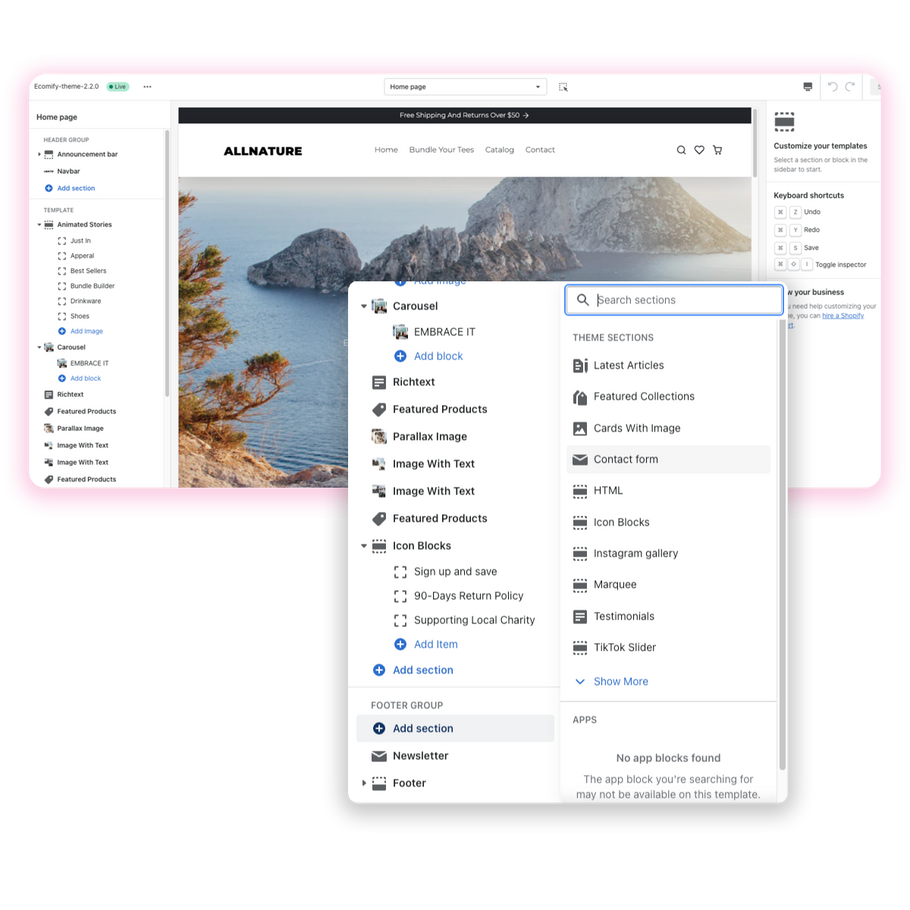 To begin your journey...
Simply purchase our theme and unlock a wealth of premium features
Once you've completed your purchase, follow these instructions to maximize your theme's potential:
Go to  this page  for how to enable licensing  
Then make an account  on our page 
Follow these steps in our doc

Designing your store with Ecomify is a breeze - even if you don't have any coding experience.
Dark Mode
Border Radius Controls
Blogs
Announcement Bar
Cards with image
Contact Form
MP4 Video
YouTube Video
Newsletter Pop-up
Shopify 2.0
Cross Sells
Upsells on search
Product Reviews Integration
Product Badges
Custom Trust Badges
3 Style FAQ Section
Recommended Products
Quantity Breaks
Animations on scroll
Product tabs
Recharge Integration
Padding & Margin option
Speech Recognition Feature
Brands page
Setting to open the offcanvas drawer from bottom->up
Compare table
Transparent Header
Product Image Zoom
YouTube Video
Parallax Image
Collection Next/ Previous Product
Product Accordion Tabs
Carousel
Accordion Footer
MP4 Section
Icon Blocks
Truncate product list item title
Animated Stories
TikTok Shoppable Slider
Annoucement bar
External Video
Icon Blocks
Image Compare
Latest Articles
Marquee
Newsletter Popup
Rich Text
Single Product
Featured Product
Custom Quiz
Custom Bundle Builder
Shoppable TikTok
Testimonials
Seperator
Padding & Margin options
Product Breadcrumbs
Collection Next/Previous Product
Predictive Search
Search With Upsell
Search By Collections, Pages, Blogs
Slide Out Cart With Upsells
Product Upsells
Advanced Collection Filtering
Recently Reviewed
Related Products
Color swatches
Support for 3D models
Setting to control sale badge color and visibility for product list items
Custom Properties in the Product Form (Personalizations)
Product Size Chart
Padding & Margin options
Product option to show in the mega menu
Single Image
Limited offer
Subscription customization
Image banner
Image switching on hover
Color swatches
Wishlist and ATC option
Padding & Margin options
Ajax Infinite Scroll module + Pagination/ Product Count
Automatic Image resize
Collection banner embed
Slide Out Cart
Cart Free Shipping Threshold
Cart Upsells
Cart Notes
Cart Payment Icons
Recommended Products
Shipping Calculator Feature in Cart Drawer
Upsell on subscription
Gift wrapping
Supports MP4 and YouTube
Brand video
Shoppable TikTok Videos
Product Videos
Support for 3D models
Padding & Margin options
Smooth Animations
Page transitions
Animated fade ins and outs
Landing page template
Newsletter Popup
Blogs
Upsells & Cross sells
Bundle Builder
Quiz Feature
Lazy Loading Image
Advanced Size Chart
Automatic Image resize
Custom product badges
Hover effect or sliding product images
Shadow on header nav
Built with CSS 3 + HTML 5, Bootstrap 5X
Scheduled announcement bar
FAQ search
3.0
Oct 22, 2023
Most Recent
[NEW] Partial slide view in mobile setting in the Featured Products section
[NEW] Refactor product page blocks
[NEW] Timeline - section
[NEW] External video - Video Slider
[NEW] Animated Counters
[New] Promo Section
[New] Rich text with buttons
[NEW] Lookbook - section
[NEW] Review app integrations and styling
[NEW] Product list option in empty cart state
[NEW] Refactor the "Single Product" section
[NEW] Purchase options improvements in PDP
[NEW] Subscription selected first on purchase options
[NEW] Product card - global settings
[NEW] Mobile/desktop font-size settings for sections
[NEW] Font-family and font-size settings for desktop and mobile menus
Enhancements
[ENHANCEMENT] Mega menu container should be full-width
[ENHANCEMENT] Improve global theme settings
[ENHANCEMENT] FAQ option to close first
[ENHANCEMENT] FAQ ability to load images within tab content
[ENHANCEMENT] Upgrade Bootstrap framework to v5.3 and other vendor scripts and style
[ENHANCEMENT] Image with text section should have Mobile image only related settings
[ENHANCEMENT] Completely refactor the "Image with Text" section
[ENHANCEMENT] Twitter logo to X
[ENHANCEMENT] Refactor the "Single Product" section
[ENHANCEMENT] Purchase options improvements
[ENHANCEMENT] Use SVG icons instead of text in the Plus/minus in qty fields
[ENHANCEMENT] Accordion flush (borderless) setting for the accordion block in PDP
[ENHANCEMENT] Do not show arrows in the product media gallery if few slides
[ENHANCEMENT] SVG icons instead of text in the Plus/minus in qty fields
[ENHANCEMENT] Styling options for the accordion block in PDP
[ENHANCEMENT] 'Adapt' image orientation without cropping.
[ENHANCEMENT] Purchase options improvements in PDP
[ENHANCEMENT] Icon setting for the cart goal feature, shipping, gift
[ENHANCEMENT] Refactor sections' header to be a snippet
[ENHANCEMENT]Refactor sections' header to be a snippet
[ENHANCEMENT] organize cart items elements
[ENHANCEMENT] Improved Image orientation setting for the product gallery image
[ENHANCEMENT] section headers were refactored
[ENHANCEMENT] Lookbook points work on safari browser
Fixes
[FIX] Product personalization bug wrong closed tag in select option
[FIX] Carousel caption's needs a max-width setting to prevent the description text from going to wide
[FIX] Carousel caption color setting
[FIX] Refactor the logic for the "Prefer Dark Design". Dark design should work with color options only
[FIX] Sticky video section small fixes in theme editor
[FIX] Completely refactor the "Image with Text" section
[FIX] Faq fancy styling color
[FIX] Featured collection- when two on large screens and fluid but collection title overlaps and buggy
[FIX] Small theme editor issues with the Newsletter Popup section
[FIX] issue with metafields not being pulled correctly
[FIX] FAQ item should open if clicked on the corresponding block - admin