INTRODUCING
Presented by The Ecom King, Developed by EcomGraduates®.
STEP 1. SUBSCRIBE TO US
You'll receive tips and tricks on how to skyrocket conversions!
STEP 2. DOWNLOAD ECOMIFY LITE
Buy Once. Buy Right.
Ecomify has been designed to accommodate businesses of any size, be it a nascent startup or a flourishing enterprise. It offers a wide range of applications and support to aid your success, regardless of where you stand in your ecom journey.

Grab Premium Version Today →
EcomifyLite - Simplifying Ecommerce
Enhance your online store with our premium Shopify theme. Developed by EcomGraduates™, our themes feature stunning designs, advanced features, fast loading speeds, and full responsiveness to convert visitors into loyal customers.
Stand out from competitors and bring your brand to life with our themes.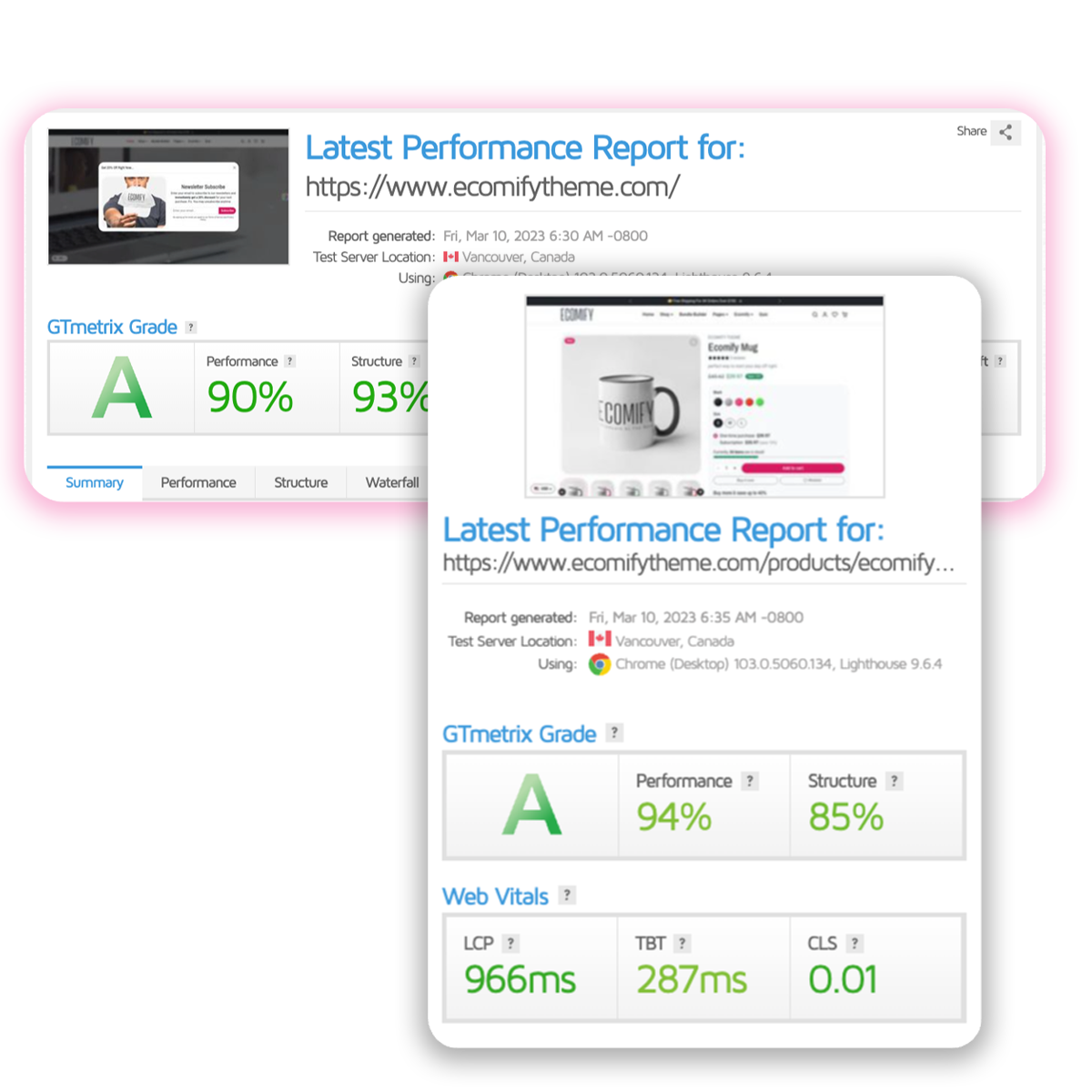 EcomifyLite: Mobile-first design then desktop
EcomifyLite puts mobile first, ensuring that your online store looks and functions beautifully on any device. Keep your customers engaged and coming back for more with our mobile-optimized theme.
EcomifyLite's Dark Theme- Shop In Style
EcomifyLite is proud to offer a sleek and sophisticated dark theme for your online store. Our dark theme offers a unique and modern look that will set your store apart from the competition.

Not only is it visually appealing, but it's also easy on the eyes and can be easier to read in certain lighting conditions. Plus, with EcomifyLite's customization options, you can easily adjust the colors and branding elements to match your specific aesthetic. Stand out with EcomifyLite's dark theme and create an online store that truly reflects your brand.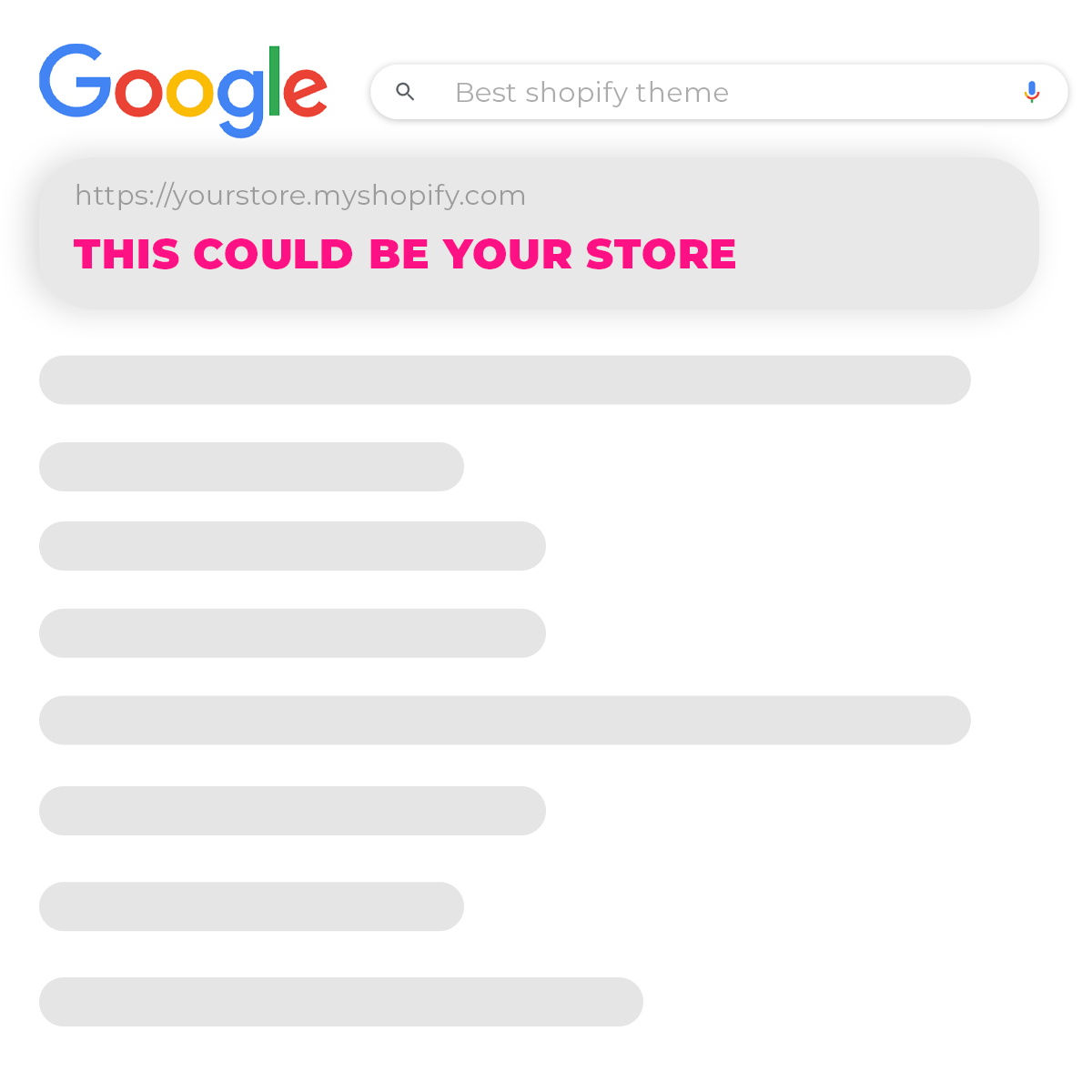 Optimized For SEO
With EcomifyLite, you can expect to achieve the highest possible Google scores thanks to its advanced features such as expanded rich snippet support, semantic usage of HTML tags, and complete compatibility with Shopify's native SEO functionality.
Additionally, EcomifyLite offers even more capabilities to enhance your online store's visibility and search engine rankings.
EcomifyLite: Powering Online Retail Growth
EcomifyLite caters to businesses of all sizes with built-in app like features
and comprehensive support for success.
Full Control
Design your dream store with ease using EcomifyLite - no coding experience necessary! Customize every aspect of your online store to your exact specifications and watch your business thrive.
Minimal Apps
EcomifyLite has everything you need to run a successful online store - all in one theme. Say goodbye to cluttered apps and hello to a streamlined, efficient business.
Not Just A Theme
EcomifyLite comes with top-notch support to ensure that you have everything you need to succeed. Let us be your partner in building a thriving online business.
Attention To Detail
We believe that the little things make all the difference. That's why we've paid close attention to every detail in our theme ensuring that every aspect of your online store looks and functions beautifully.
EcomifyLite -  A Theme  That Grows With You
Streamlining the ecommerce experience for effortless success.
Download EcomifyLite
Not All Themes Are Created Equal
Section Groups (New)
Create dynamic conglomerations of sections
Subscriptions
Offer subscriptions on a monthly, weekly, or daily basis.
Dark Mode
Reduce blue light exposure
Sticky ATC
Decrease cart abandonment making
Custom Properties
custom options to products that are not available in the default product fields
Newsletter
Communication to subscribers
Speech Recognition
Understand what others are saying on web
Custom Heading Font
Style your heading fonts and bully brand
Predictive Search
Anticipating the search needs of a user
Why Is EcomifyLite Faster?
A theme that guarantees speed and performance optimization without any required modifications from you. EcomifyLite is developed to deliver lightning-fast performance, maximizing your online store's efficiency, and boosting your revenue.
Fewer Server Requests
Optimize speed without added apps slowing you down
Image Optimization
Ensuring that images will no longer slow down your site, as they are served in optimized quality
Javascript Queries
Minimizing Javascript DOM queries by using only unique IDs and skipping over unnecessary elements
Easy Integrations
Allows for more functions without sacrificing site performance
Latest Shopify
Always on the cutting-edge of Shopify, now with section groups
Data Driven
Design backed by data for ultimate reliability
Support Is Key
Top priority to ensure that our customers are satisfied and their issues are resolved
Clean Code
Ensuring cross-browser compatibility by adhering to the latest coding standards
Janet

Real Customers, Real Reviews

William

Real Customers, Real Reviews

Steve

real customers, real reviews

Leeona

REAL CUSTOMERS, REAL REVIEWS

Gary

real customers, real reviews

John

real customers, real reviews

krystal

Real customers, real reviews

JIm

real customers, real reviews

Bec

real customers, real reviews

Chris

real customers, real reviews

Marley

real customers, real reviews
Dark Mode
Border Radius Controls
Blogs
Announcement Bar
Cards with image
Contact Form
MP4 Video
YouTube Video
Shopify 2.0
Product Reviews Integration
Product Badges
Custom Trust Badges
FAQ page
Recommended Products
Animations on scroll
Product tabs
Recharge Integration
Padding & Margin option
Speech Recognition Feature
Setting to open the offcanvas drawer from bottom->up
Product Image Zoom
YouTube Video
Product Accordion Tabs
Carousel
Accordion Footer
MP4 Section
Icon Blocks
Truncate product list item title
Announcement bar
External Video
Icon Blocks
Latest Articles
Marquee
Rich Text
Single Product
Featured Product
Testimonials
Separator
Padding & Margin options
Lookbook
Qty Breaks
Parallax Feature
Product Breadcrumbs
Predictive Search
Search With Upsell
Search By Collections, Pages, Blogs
Advanced Collection Filtering
Recently Reviewed
Related Products
Color swatches
Support for 3D models
Setting to control sale badge color and visibility for product list items
Custom Properties in the Product Form (Personalizations)
Padding & Margin options
Product option to show in the mega menu
Single Image
Image banner
Image switching on hover
Color swatches
Wishlist and ATC option
Padding & Margin options
Ajax Infinite Scroll module + Pagination/ Product Count
Automatic Image resize
Slide Out Cart
Cart Free Shipping Threshold
Cart Notes
Cart Payment Icons
Recommended Products
Shipping Calculator Feature in Cart Drawer
Supports MP4 and YouTube
Brand video
Product Videos
Support for 3D models
Padding & Margin options
Smooth Animations
Page transitions
Animated fade ins and outs
Landing page template
Blogs
Lazy Loading Image
Automatic Image resize
Custom product badges
Hover effect or sliding product images
Shadow on header nav
Built with CSS 3 + HTML 5, Bootstrap 5X
FAQ
EcomifyLite theme is a Shopify theme that is designed to help e-commerce store owners create a visually appealing and functional online store. The theme offers a variety of customizable features, such as multiple homepage layouts, product page layouts, and header and footer styles.
It also includes features like a product slider, customizable mega menu, and a responsive design that looks great on both desktop and mobile devices. EcomifyLite theme is built to help store owners showcase their products and improve their customers' shopping experience.
Unfortunately, this is just a theme and does not include the design of the store.
Due to ecomifylite being a free theme, please view our documentation as there are no refunds for the theme as it is a free theme.
EcomifyLite has been specifically engineered to optimize the performance of your online store by enhancing its speed and responsiveness, resulting in an unparalleled user experience for your customers.
EcomifyLite is a powerful tool that can greatly improve your website's conversion rates by optimizing your product pages, streamlining your checkout process, and providing valuable analytics to help you make data-driven decisions. However, it's important to note that while ecomify can help improve your conversion rates, it cannot guarantee sales.
Conversion rates and sales are two different factors that are influenced by a variety of variables, including the quality of your products, your pricing strategy, your marketing efforts, and more. While ecomify can certainly help you optimize your website and improve your conversion rates, it cannot control these external factors that ultimately determine whether or not a customer decides to make a purchase.
That being said, by using ecomify to improve your website's user experience and optimize your conversion funnel, you can increase your chances of converting visitors into paying customers. Just remember that while ecomify can help you improve your conversion rates, it cannot guarantee sales.